A few weeks ago. I noticed that our homepage started jumping on to the first page for its main keyword. 'Gainesville SEO'. This was super exciting because the site is only a couple of months old, the domain was literally purchased in mid-august and it wasn't until towards the end of August that content started being added to it. 


In this case study. I'm gonna walk you through the exact steps that I took to achieve these rankings. 
Initial Tasks
Since my homepage had several different themes of keywords on it relating to my business. I initially created a long-form article describing SEO and local SEO, it was a separate article that I was trying to rank for. 
So after doing some initial keyword research, I wrote the article.
I tried to make it as helpful as possible. So if you're just looking for a quick answer you could skim the headlines but if you really wanted to dive deep, you could read the whole 2500 word article.
I made sure that the meta title and meta description had appropriate keywords in them to help tell Google what I was trying to rank for. As well as several of the subheadings.
Some other things I did was to make sure that the alt text for the images were all using related keywords as well.
I published the article and now it was time to wait…
Search Console Stats


As you can see, about a week after I started posting content, my site started ranking on the 7th page of Google for this keyword. A couple weeks after my website started receiving impressions. I closely monitored search console to see which keywords each page was ranking for. And I noticed something surprising.
My homepage was actually ranking higher than the dedicated Gainesville SEO article for that keyword.
I pondered on this for a couple of days and finally decided to move that content over. Repurpose the content so to speak.
We can try as much as we want to tell Google which keyword to rank which page for but sometimes Google just makes up its own mind and there's not much we can do about it, so if you can't beat on the join them.
Repurpose Content
Sometimes it makes sense to take the content from an older page and add it to the newer page or the page that is ranking higher and then delete the old article or redirect it.
So this is exactly what I did. I took the whole 2500 word article and added it to the end of the content of the home page. I then redirected the old article to the homepage for a couple of weeks until I could change all of my internal links to just point to the home page.
After I did this I waited for another week or so before going back to into search console to analyze the results.
On-Page Optimizations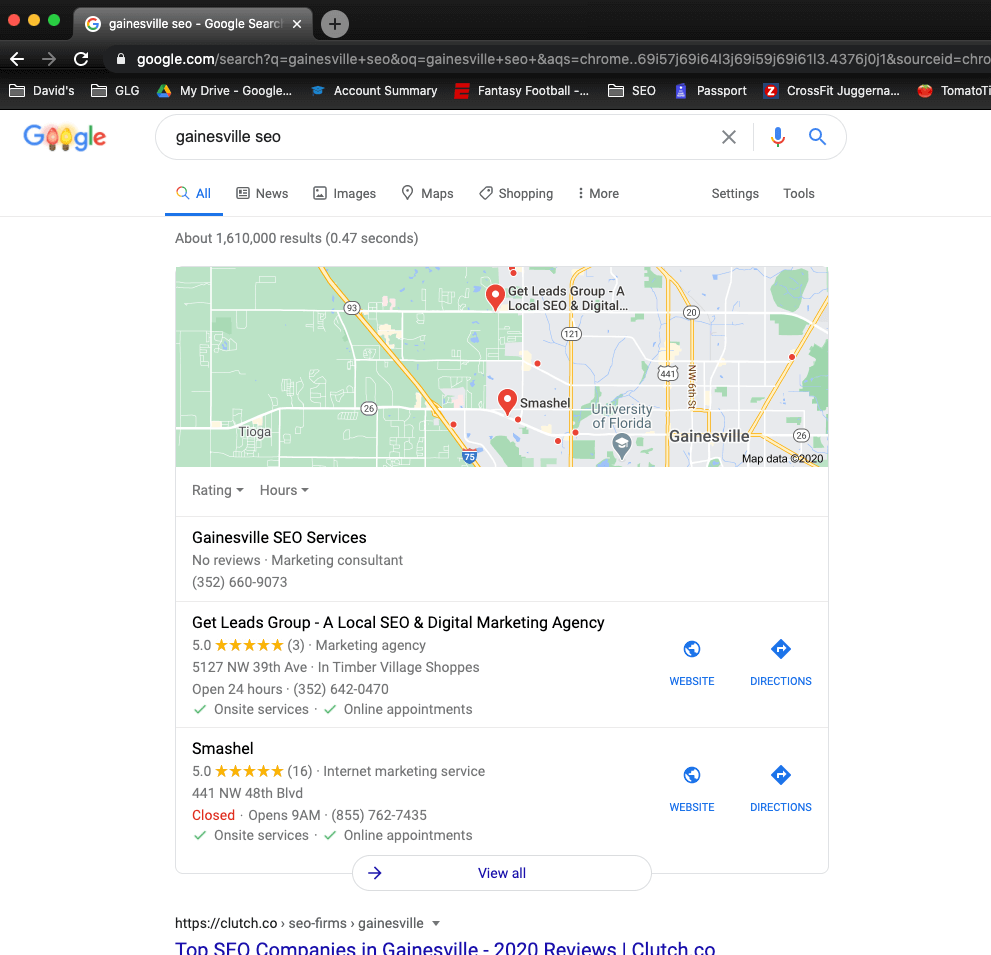 After a few weeks the homepage impressions started to increase and rank for many more keywords relating to SEO and local SEO. So from here I noticed that I was ranking for a few that weren't even on my homepage, so I sprinkled in a few of those throughout the content.
Besides that, I just made sure that every other page on my website was linking back to the homepage.
Press Release
The only off-page SEO that I've really done so far is I created a press release which got picked up by dozens of news outlets. Many people will tell you that press releases don't work anymore, however, I'll let you make the decision based on these results. 
What I got from this press release were several brand mentions and links back to the website. Now, most of the links are no-follow which doesn't usually pass page rank but you know, they are still increasing the prominence of my website because of the brand mentions. These initially helped my GMB start ranking first before my website did.
A few of the websites that picked up the story are even Google News websites which has driven real traffic to my website.
Results


In this screenshot you can see since about November 1st my page has been floating around 4/5 and starting to get a few clicks. With such low search volume for this keyword, I'd imagine the first 1-2 spots get the majority of the clicks.
Full disclosure this keyword is not super competitive compared to some other industries. However, it was still great to see. That my website is hitting page one after six weeks and floating around number four after eight weeks.
The top of the search consists of two other agencies that have been around for a lot longer so they have a higher domain authority as well as a third-party review site, which has the highest domain authority.
So will I get to number one?? That remains to be seen but being in the top three or four after eight weeks is a great start.
Have you had similar results using on-page optimizations like these? Let us know and in the comments below.